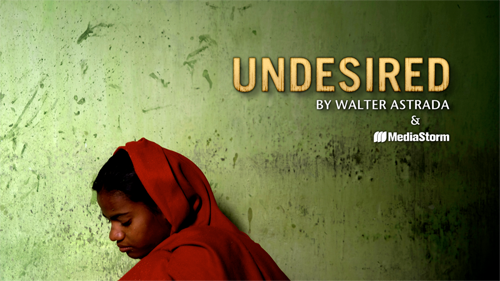 Please join us on September 30, 2010, for a screening of MediaStorm's newest multimedia project, Undesired, by Walter Astrada.
The screening will be held at Galapagos Art Space, at 16 Main Street in Dumbo, Brooklyn. MediaStorm producers will be on hand for Q&A after the film.
Doors open at 7:30, and the film will begin at 8pm.
Please RSVP to rsvp@mediastorm.com
About the Project:
India is a diverse country, separated by class and ethnicity. But all women confront the cultural pressure to bear a son. No woman is exempt.
Society's desire for boys originates from the belief that men make money while women, because of their expensive dowry costs, are a financial burden. As a result, there is a disregard for the lives of women and girls. From birth until old age, they face a constant threat of violence and, too frequently, death.
Since 1980, an estimated 40 million women have been "missing," by way of abortion, neglect, or murder. The government has banned the dowry and sex selective abortions, but both practices still thrive.
Undesired tells the stories of these women and girls.
This project was made possible with support from the Alexia Foundation.