World Press Photo held its first multimedia contest this year. They worked with a nominating committee to identify exceptional projects, and then invited the creators of those projects to submit their pieces for judging. The jury consisted of Claudine Boeglin (Thomson Reuters Foundation), Andrew DeVigal (The New York Times), Kang Kyung-ran (Frontline News Service), and Gideon Mendel (photographer), and Jury Chair, Ed Kashi (photojournalist/filmmaker).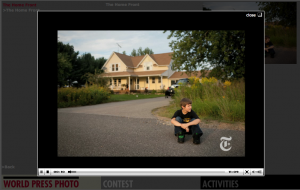 Projects were shortlisted in two categories: Linear Productions, and Interactive Productions. Finalists were selected from over 40 nominations.
Winners will be announced during the World Press Photo Awards Ceremony on May 7, 2011.
The shortlisted Finalists are:
Blanco, by Stefano De Luigi and VII Photo Agency
The Home Front, photographed by Marcus Yam and produced by Nancy Donaldson, Catrin Einhorn and Meaghan Looram for The New York Times
A Man in the Forest, by Lei Wang
Powering a Nation, photographed by Mike Ehrlich, Jessey Dearing, Lauren Frohne and Elena Rue and produced by Laura Ruel, Chad Stevens and Don Wittekind from The University North Carolina at Chapel Hill.
Prison Valley, photographed by Philippe Brault in collaboration with author and co-director David Dufresne and produced by Alexandre Brachet and Gregory Trowbridge for Arte.
and A Year at War, photographed by Damon Winter and Marcus Yam and produced by James Dao, Nancy Donaldson, Catrin Einhorn, Rob Harris, Meaghan Looram for The New York Times.
You can watch the stories at the World Press Photo website.
There are also some great interviews with the multimedia jury on the site.
Four MediaStorm productions were nominated for the initial round of judging: Undesired, Take Care, Mr. Blues, and When the Water Ends.
Congratulations to all of the finalists!