More videos we've been watching lately:
64. Today by Jonathan Harris
Jonathan is one the most creative and innovative people I know. This "meta 30" effort is another example of his brilliant ideas and execution in action. – Brian Storm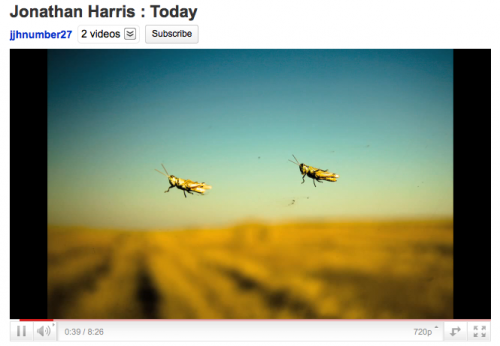 See the full collection at http://number27.org/today.php
65. Scrapertown by California is a place
Watch this, then head on over to their website for more. Awesome work, they're all so different, and so good. -Jessica Stuart

66. Adidas France – 3D Mapping Projection from The Cool Hunter
A very unique playback experience. – Brian Storm

When it comes to 3D mapping projection – It is still always all about creativity, not the tools. An emotional connection with the brand is essential regardless of the medium.
67. Danny & Annie from StoryCorps
Animated video made from a fantastic StoryCorps interview with a couple in love. The animation really takes this already touching story to a new level. -Jessica Stuart

68. Timescapes: "Death is the Road to Awe" from Tom Lowe
Awe inspiring time lapses. – Eric Maierson

69. My Freedom Or Death – Condition ONE Beta from Danfung Dennis
Interactive video gives the user a unique perspective. – Brian Storm
Condition ONE is a mobile media technology company developing the tools and platform to combine filmmaking, photojournalism and mobile devices to pioneer powerful immersive experiences.
facebook.com/ConditionOne1
twitter.com/danfung
—
The Libyan desert near Ras Lanouf
March, 2011
Demonstrations have given way to bloody conflict. Battle lines sway back and forth as the Benghazi-centered ragtag rebels combat Tripoli's mercenaries and loyalists. Pro-Gaddafi forces mount their first coordinated offensive, exposing the rebels as woefully untrained and unorganized. Defiance turns to anguish when casualties mount. Slivers of hope rest on defecting army generals and foreign intervention.
Photojournalist Patrick Chauvel brings us this immersive video from the rebels' front lines. "It's a very sad story," he says. "These guys are students, they're hairdressers, they're bakers, bankers, philosophers, teachers. They are no military."
Chauvel is concerned for his safety. Gaddafi loyalists target the media and could cut off any escape. Four New York Times journalists are missing at the time and an Al Jazeera cameraman dies in the days that follow. Patrick says fighting in the flat, open desert divides the rebels into two camps: lucky and unlucky. Shelling hits at random, missing by hundreds of meters one moment and striking a direct hit the next. Chauvel fears the misses are the warning shots. He plans to escape before the battle becomes a massacre.
-Powered by Condition ONE
Mode: R&D Beta 1.2
More details at http://www.dslrnewsshooter.com/2011/03/27/sundance-winner-danfung-dennis-previews-condition-one-a-dslr-based-virtual-reality-system-for-news/
See previous installments that are Worth Watching.