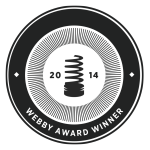 We are proud to announce that MediaStorm has won a prestigious 2014 Webby Award in the Documentary: Series category for our work on the 2013 ICP Infinity Awards. Other nominees in the category were wayfarer entertainment, Reel Nice, Time, and ESPN.com.
The ICP Infinity Awards films were made possible with the generous support of the Harbers Family Foundation.
Hailed as the "Internet's highest honor" by The New York Times, The Webby Awards is the leading international award honoring excellence on the Internet. Established in 1996, The Webby Awards received nearly 12,000 entries from all 50 states and over 60 countries worldwide this year. The Webby Awards is presented by the International Academy of Digital Arts and Sciences (IADAS).