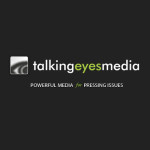 Talking Eyes Media is seeking an
Associate Producer
to work out of their Montclair, NJ office. The candidate should be a self-motivated individual with an interest in documentary film production and at least three years of experience. The position requires someone with a high-level of organizational, communication, and production management skills.
Description
The Associate Producer at Talking Eyes Media will:
Work closely with producer/director and team members to successfully complete projects on time and within budget
Research topics, story ideas, and content to identify possible production opportunities. Contact potential subjects and experts to conduct pre-interviews as needed
Build and manage all production schedules
Perform grant and funder research for projects; Assist with grant applications
Manage and craft film festival submissions
Provide additional office and production support as needed
Craft and manage content for website, blog, social media networks (Facebook and Twitter), and digital channels (YouTube and Vimeo); Write newsletters and project announcements
For information on position qualifications visit the Talking Eyes blog.
Apply
E-mail cover letter and resume to Julie Winokur at jwinokur@talkingeyesmedia.org with "Associate Producer" as the subject line.