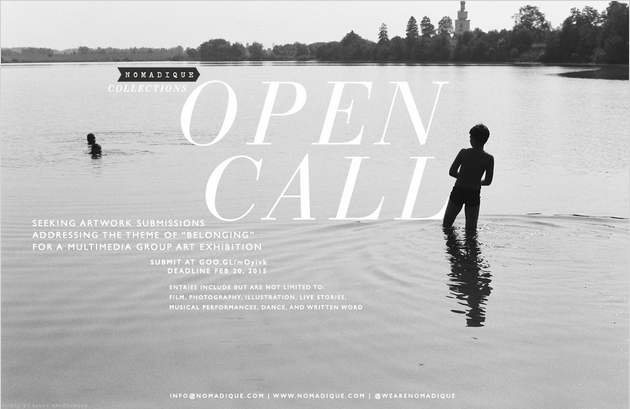 Nomadique is seeking submissions for their upcoming multimedia art exhibition, inviting artists to reflect on the sensation of belonging. The pop-up show will be held in New York City in mid-April and will feature live performances, film screenings, and a gallery display.
Submitted works may reflect on the following questions: To what do we belong and why? How does an anxiety of belonging impact our development and behavior? How does belonging affect our sense of purpose? Does belonging necessitate exclusion by nature?
Entries include but are not limited to: film, photography, illustration, live stories, musical performances, dance, and written word.
Learn more and submit your work at http://goo.gl/mOyivk. Deadline is Friday, February 20th, 2015. 
About Nomadique
Nomadique is a Brooklyn-based multimedia cooperative made up of filmmakers, photographers, journalists and musicians and consists of a small full-time staff and larger network of creative contributors.