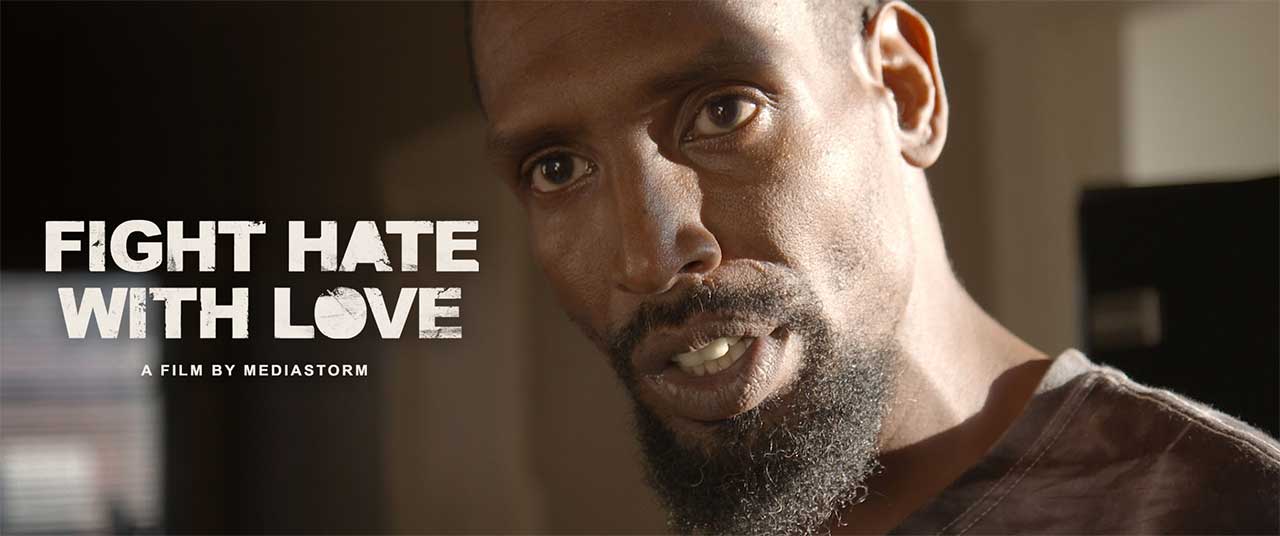 Thank you to everyone who pledged support for MediaStorm's Kickstarter campaign for Fight Hate with Love! Your support allows us to begin the next phase of post-production. It allows us to take this film from rough cut to fine cut, and we are so grateful for your support and your belief in us.
This has been such an important month for us at MediaStorm and we owe it all to you, our fans and supporters. A decade of storytelling has led us to this moment – the creation of our first original film, Fight Hate with Love. We are eager to get back to work, finish what we started over a year ago, and give you the opportunity to watch the story of one family trying to come together and heal itself from the traumas and scars of incarceration.
We'd like to give a very special shout-out to Howard and Sheri Schultz and the Schultz Family Foundation, whose pledge made all the difference. Their contribution was critical in reaching our goal and enables us to take this important story one step further.
And to our 138 other backers — thank you, thank you, thank you! Supporters include:
A AlkhatibAashti Zaidi HaiAbdullah Al-KhatibAdam Adam Newport-BerraAdam WestbrookAidan SullivanAl TielemansAlan HagmanAlbert HornerAlex MallisAlexander KlosterkemperAlexandra MarvarAlexandria BombachAllan ThompsonAmanda BurrAmanda LucierAmi VitaleAmy RymerAndi AlexanderAndrew CurrieAnita and EduAnn Sophie LindstromAyperi Karabuda EcerBarbara GriffinBarry MayoBayete Ross SmithBill JohnsonBjarke MyrthuBlue Chalk MediaBob MillerBruce ThorsonCameron ZohooriCarole CloudCasey TothCharlie MahoneyChase PashkowichChia-Yu ChangChris PageChrison ThompsonChristine BenjaminCindy GaoCraig StrongCurran KelleyDaniel GawlowskiDanny MendozaDavid JasseDavid Mikkelsen TroensegaardDavid Paul BaylesDavid RicartDiane S DysonDiane van der MarelDiego James RoblesDominic CarlinaDon MacKinnonDonovan RobothamEd KashiEline JongsmaEllen TolmieEric UsnerFelicia AnastasiaFrauke Huber and Uwe H. MartinGina MartinHank Willis ThomasHarriet DedmanHoward SchultzIna Howard-ParkerJames DooleyJess KimballJim McCarthyJim SeidaJoe MahoneyJohn GaunttJohn TempleJohn WaltonJosh MarianelliJoshua DavisJulie WinokurKamal SinclairKate PattersonKelly CreedonKris NolteLacy AustinLana SlezicLauren FeeneyLeah OlsonLewis P WilkinsonLiesl CoplandLiz CookLorraine CoteMarc WilkinsMaria RebecchiMark DolanMark PetersonmcgeoffMelissa BurmesterMeredith BarnesMichael DavisMichael MoranMichael ZhaoMichal RosennMichele McDonaldMike McVicarMike PetersMike RitterMike WatsonNicolae CioroganNina BermanOddgeir OystesePaik-Kee LowPancho ShoffeittPari FarmaniPaul CoatesPhoebe PotterRachelle NonesRandy ChingRay WhitehouseRichard Koci HernandezRiley HooperRob FinchRomany RedmanRyan PatchS KatzSandiScott WinchellSolsmedStacey WoelfelSteve RiceStewart ButterfieldTieg ZahariaTim DonlanTimothy o'SheaToni GreavesTrevor MeierTricia SmithTucker WalshTyler StablefordWayne MorrowZachary Stauffer