MediaStorm is hiring! We're looking for fierce, talented, and eager people to join our bi-coastal team. We're seeking an Editor/Producer and Social Media and Operations Manager. Deadline to apply is May 20.
For the past fourteen years, MediaStorm has worked with filmmakers, interactive designers, technologists. and a diverse range of clients to create short films with big impact. We are leaders in the field of interactive design and storytelling, and our success is all about our community. We are driven by a desire to create the best stories and to work with partners who share our values. Whether it's in our client work or our collaborations with other artists, we dedicate ourselves fully to the art of the story.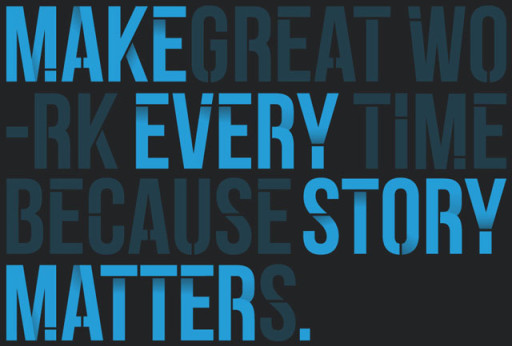 Our filmmaking and editing curriculum, which we developed based on our own process, is now used at dozens of universities. Our goal is to continue to develop curriculum that advances our knowledge — and our new producer/editor will be integral to that process.
If this sounds like a challenge you're up to, we encourage you to apply. MediaStorm is an equal opportunity employer that is committed to creating an inclusive and diverse workplace. We welcome applications from all.  
EDITOR & PRODUCER
MediaStorm is looking for a passionate and motivated Editor & Producer to create compelling films for our publication, workshops and clients.
The ideal candidate will have experience in editing and producing visually sophisticated films. Strong narrative storytelling skills as well as technical proficiency with editing software is required.
This position is based in Los Gatos, CA and will work directly with MediaStorm founder & Executive producer Brian Storm.
Description
Editor & Producer will:
Edit visually sophisticated films

Transcribe interviews and write scripts

Collaborate with other photographers, filmmakers, audio reporters and musicians

Participate in client meetings and fulfill our client's production needs

Write blog posts about the craft of filmmaking

Give presentations and instruction at MediaStorm Workshops

Conceive innovative storytelling approaches to further MediaStorm's storytelling mission
Qualifications
The successful applicant will have:
Ability to collaborate with a diverse team

Ability to self-manage and meet aggressive deadlines

Ability to work virtually and to travel as necessary

Knowledge of Premiere & Final Cut

Color correction skills a plus

Ability to run camera on interviews a plus

Ability to also act as lead cinematographer in limited scenarios a big plus
OPERATIONS & SOCIAL MEDIA MANAGER
MediaStorm is looking for an organized and motivated Operations & Social Media Manager to oversee communications and keep productions running smoothly. The ideal candidate will be an adept communicator, have experience with documentary films, and be eager and interested in taking ownership of projects and supporting a growing production studio.
This position is based in Los Gatos, CA and will work directly with MediaStorm founder & Executive producer Brian Storm.
Description
The Operations & Social Media Manager will:
Maintain and update website and digital channel content and other written communications

Manage and advance the MediaStorm blog

Strategically expand social media presence, evaluate new platforms and optimize content for different audiences online

Coordinate rollout and digital outreach campaigns for film/product launches and distribution in collaboration with production and web development teams

Organize and maintain digital assets archive

Troubleshoot and respond to customer service inquiries

Oversee award and festival submissions as well as company's operational and customer service needs

Participate and contribute to strategic planning meetings

Provide support to production and business staff on projects as needed
Qualifications
A successful applicant will have:
Strong writing and editing skills

Fast data entry skills

Familiarity with the social media landscape

Ability to manage and organize human and digital resources

Ability to multi-task and pay attention to detail
Familiarity with Final Cut Pro, Adobe Premiere, Compressor, DVD Studio Pro, HTML, and basic photo and multimedia editing skills are desired are a plus.