Crisis Guide: Iran produced by MediaStorm and the Council on Foreign Relations (CFR) received the 2011 Overseas Press Club (OPC) award for Web: Online General Excellence. The OPC awards have been recognizing online journalism since the 1940s and this year they added six new categories for online coverage to acknowledge the changing media landscape.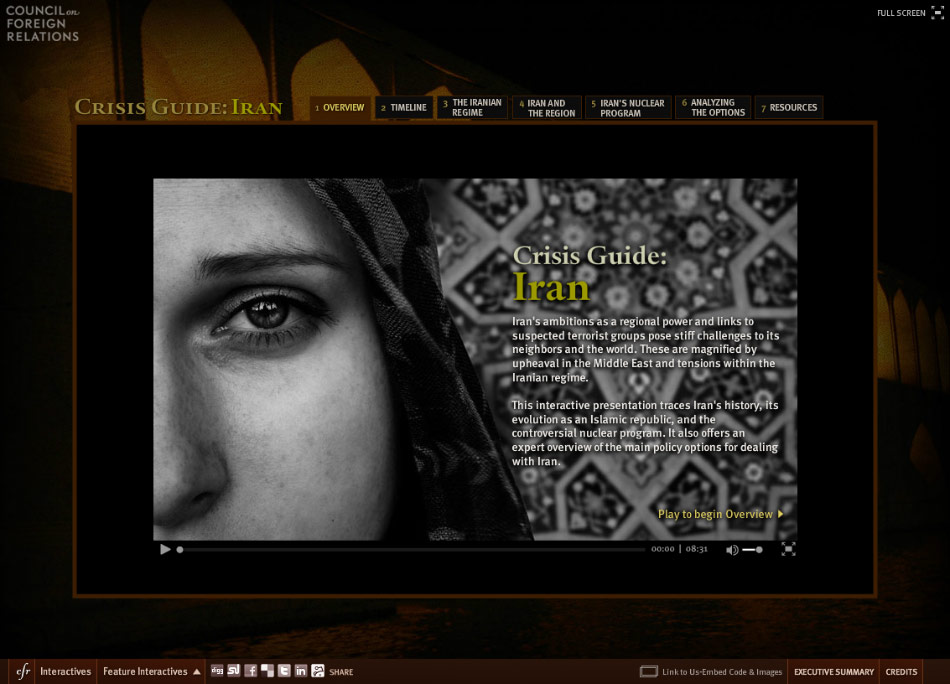 Crisis Guide: Iran was honored for its superb use of multimedia in a timely and in-depth study of Iran's politics, economy and nuclear program. The seven-chapter publication was recognized for using interactive graphics, archival slideshows, graphs, timelines and video interviews to showcase the history and government of the country in a visually pleasing and accessible way.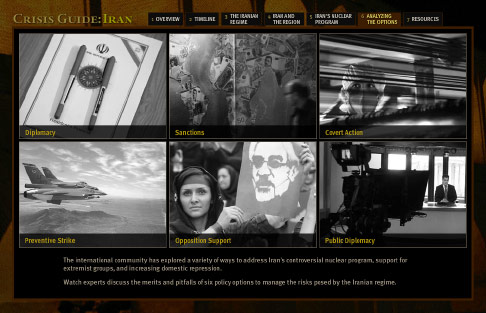 Crisis Guide: Iran is the seventh in a series of guides produced by MediaStorm and CFR that look at major international issues, including Pakistan, the Israeli-Palestinian conflict, the Korean Peninsula, Nuclear Energy, the global economy, global covernance, and climate change. Crisis Guide: Pakistan was awarded the OPC Award for Best Use of Multimedia in 2010.
With this project, MediaStorm and CFR aimed to create a site that was immersive in experience, allowing the user to focus on the complex history of Iran and the issues facing the country as a whole. The guide draws on insights from more than 25 leading analysts, government officials, and journalists to explore Iran's challenges and offer a range of expert opinions on the policy options to address them. It also uses multimedia elements to trace the country's history, examine its oil-driven economy, and survey its controversial nuclear program.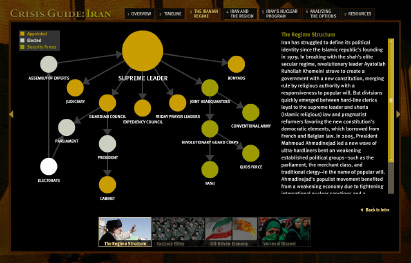 The awards were presented last night at the 73rd Annual OPC Awards Dinner in New York. The club presented 27 awards in categories ranging from photography to online commentary. In addition to MediaStorm and CFR, the winners for online and web coverage are foreignpolicy.com, GlobalPost.com, The Financial Times and ProPublica, Virginia Quarterly Review and The New York Times. Congratulations to all the winners.