This article is part of a new series of posts with tips and tricks from our producers' experience working with Adobe Premiere Pro after years of working in Final Cut Pro. To read more about why we made the switch, check out this post.
Today's post was written by MediaStorm producer Eric Maierson.
---
The Adobe Premiere Pro Project Panel behaves much like the Browser in Final Cut Pro. Its basic function is to store and organize the assets used in your project.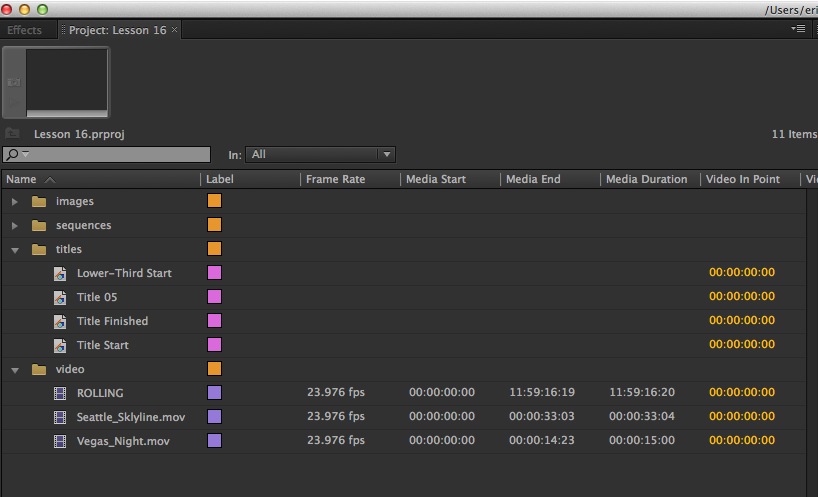 Still, there are two key, significant differences.
Unlike FCP, if you drag a file from the Finder directly into your timeline, Premiere Pro will automatically add a reference to this asset in the Project Panel. Therefore, if an asset exists in a timeline then it will also exist in the Project Panel, whether you put it there or Premiere does.
The more significant difference, however, is the way Premiere Pro responds when you delete an asset from the Project Panel. If you try to delete a clip from the panel, Premiere Pro presents you with a warning message that states: The selection you are deleting contains clip references in one or more sequences. If you continue these clip references will also be deleted. Do you want to continue?

In essence, Premiere Pro is alerting you that the clip you are about to delete exists in one or more sequences. Deleting the asset from the Project Panel, will also delete it from all timelines where it exists as well.
Of course, Premiere Pro won't trash the actual file on the Finder but it will wipe all traces of it from your project.
So use caution.
---
To learn more about how our producers are using Adobe Premiere Pro see our other blog posts on the topic. Also, follow our producers' twitter feed @PrProShortcuts for Premiere shortcuts.
To learn more about our production style, you can purchase a copy of our Post-production Workflow. Readers who purchase our current Final Cut Pro and Aperture workflow automatically receive the Premiere workflow when it is released.
MediaStorm offers several online and in-person training opportunities at mediastorm.com/train.
Have you made a recent switch in your editing software? Let us know about it in the comments below.