This article is part of a new series of posts with tips and tricks from our producers' experience working with Adobe Premiere Pro after years of working in Final Cut Pro. To read more about why we made the switch, check out this post.
Today's post was written by MediaStorm producer Eric Maierson.
---
If Adobe Premiere Pro has a secret weapon, then surely it's the Warp Stabilizer effect. The Warp Stabilizer transforms shaky footage into usable material. The results are often remarkable.
To apply the Warp Stabilizer, simply search for "warp" in the effects window (Shift-7).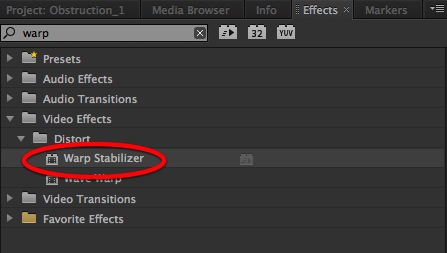 Then drag the effect onto the timeline clip that you'd like to stabilize. Note that the Warp Stabilizer effect does not work on footage that has been slowed down or sped up.
The first thing you'll notice is a blue bar across your clip. Adobe Premiere Pro is analyzing your material to understand its movement.

Depending on the length of your footage, this may take a while. You can see the effect's progress in the Effects Control window (Shift-5).

The good news is that this is a background process so you can continue to work.
Once the analysis is complete, Premiere Pro will begin to stabilize the footage.

The Warp Stabilizer's default settings work amazingly well in most situations, but it's worth exploring the numerous options.
Stabilization

Warp Stabilization offers two methods of steadying your footage Smooth Motion, which is similar to a steadicam, and No Motion, which locks down your footage so there's no motion. The latter method works best when your footage is already fairly stable.
Smoothness is the amount of effect you'd like to use. The more you add, the smoother your footage will become. But this comes at a cost as Premiere Pro increases the crop to compensate for movement. (See the Autoscale parameter in the Borders section of the effect.) Adobe TV suggests doubling the Smoothness default to 100 percent for your first pass.
Method – the means by which Warp Stabilizer will try to stabilize your footage.
Position – tracks motion based on position data only.
Position, Scale, Rotation – tracks motion based on position, scale and rotation. Does not offer any perspective changes.
Perspective – uses "corner-pinning" to stabilize the shot.
Subspace Warp (default) – attempts to actually warp the foreground and background separately to stabilize motion.
Borders

There are four framing options:
Stabilize – use this to see how the image is being moved to compensate for shakiness. No scaling is done so you'll see a black background behind your footage as it moves in order to stay centered.
Stabilize and Crop – same as above but Premiere Pro determines where to crop so that you have a stable clip. Footage appears smaller than the frame as it is not cropped to compensate.
Stabilize, Crop, Autoscale (default) – same as the above method but Premiere Pro scales up the image so you no longer see the edge.
Stabilize, Synthesize Edges – rather than crop in on your image to compensate for movement, Premiere Pro attempts to create new pixels based on the existing material.
If you still see an edge use the Advanced > Synthesis Input Range to increase how far forward and back the Warp Stabilizer will search to find missing pixels.
Increase the Advanced > Synthesis Edge Feather if you see new pixels that do not blend with your original footage.
If your footage has information on the edge of the frame that is confusing, the Warp Stabilizer uses the Synthesis Edge Cropping to eliminate it.
Additional Scale Parameters
Autoscale – sets the maximum scale size of clip, how much you are willing to increase the crop.
Auto-Safe Margin – sets the clip's edge parameters. Use this parameter if you will be showing your final piece on a CRT display and you need to compensate for lost edges.
Additional Scale – adds additional scaling to the clip.
Other Advanced Options
Detailed Analysis – check this if you are unsatisfied with the results. Premiere Pro will try harder, but at the expense of using more processor power.
Rolling Shutter Ripple – change this to Enhanced Reduction if you have an excess of rolling shutter or "jello cam."
Additional Resources
For more information on the Warp Stabilizer as well as links to video tutorials, see the Adobe Premiere Pro documentation.
---
To learn more about how our producers are using Adobe Premiere Pro see our other blog posts on the topic. Also, follow our producers' twitter feed @PrProShortcuts for Premiere shortcuts.
To learn more about our production style, you can purchase a copy of our Post-production Workflow. Readers who purchase our current Final Cut Pro and Aperture workflow automatically receive the Premiere workflow when it is released.
MediaStorm offers several online and in-person training opportunities at mediastorm.com/train.
Have you made a recent switch in your editing software? Let us know about it in the comments below.