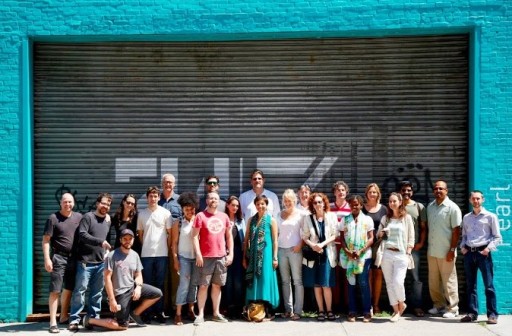 2014 marks our seventh training year at MediaStorm. Each year our workshops attract leading industry professionals looking to advance their multimedia and storytelling skills. Over 100 participants have come through our professional workshops and we continue to be humbled by how much they take away from the experience.
Dana Schiopu, Senior Media Officer at the International Monetary Fund, told us that our Methodology Workshop was a "life changing experience for any media professional." She said, "Brian and his amazing team revealed all the secrets of some of the most compelling storytelling multimedia communication I have seen so far."
After taking our Storytelling Workshop, Jillian Kitchener, Visuals Editor for Reuters, had the following to say, "Working side-by-side with the [MediaStorm] team was a great honor. From the first hour, I was immersed in the realm of storytelling. I learned how to find a visually-interesting story as well as interview techniques that encourage your subject to open-up. I learned MediaStorm's editing workflow including how to build a narrative from the ground up. I learned photo editing techniques, b-roll selection, and tips and tricks to bring audio, visuals and narrative into a cohesive piece."
In 2014 we'll be offering three Methodology, three Storytelling, and five One-day workshops at our studio in Brooklyn, NY. We are looking forward to another exciting, innovative and challenging training year. We hope you'll be able to join us.
MediaStorm Workshop Dates 2014
MediaStorm provides intensive, hands-on educational experiences through our One-day, Methodology, Storytelling and Traveling Workshops. We'll be offering the following courses in 2014:
Applications are now open. Apply now.
About Our Workshops
MediaStorm offers an array of in-person workshops and online training opportunities to meet your learning needs.
MediaStorm One-day Workshop
One-day overview session focused on the art of digital storytelling.
MediaStorm Methodology Workshop
This workshop is tailored to professionals who want to integrate MediaStorm methods into their curriculum or approach to storytelling.
MediaStorm Storytelling Workshop
Collaborate with a team to research, shoot and produce a documentary project in just one week. Work as a field reporter, editor or observer as part of crew dedicated to the telling of one story. See products from previous MediaStorm Storytelling Workshops.
Online Training
If you're not able to join us in Brooklyn this year, consider signing up for a one-year subscription to our Online Training. Pay just one fee for more than six hours of video tutorials with MediaStorm staff on reporting and post-production.
We hope you can join us for another great year of workshops in 2013!
Fall 2013 Workshops
We have two more workshops in 2013:
Fall 2013 applications deadlines are approaching. Apply now.
Learn more about our upcoming 2013 and 2014 workshops at mediastorm.com/train.